Energidryck
>
Coca-Cola AB
>
Coca-Cola
>
Coca-Cola Energy Zero Sugar
Coca-Cola Energy Zero Sugar
Review:
Coca Cola Energy is an energy drink with a cola taste with a high content of caffeine. At the first sip, the drink feels well-balanced and of good quality as usual from Coca Cola. Of their sugar-free cola drinks (Light & Zero Sugar), this is the one with the most cola flavor. The taste is reminiscent of a mixture of Coca-Cola and Red Bull.
After a few sips, you notice that there is a little too much imbalance with sweetness and the drink could have had a little less sweetener. On the positive side, the amount of sucralose is balanced with acesulfame-K, which means that the sucralose does not take over the taste but gives a more sugar-like taste.
Buy On-line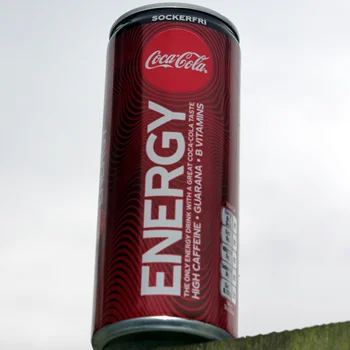 Egenskaper
Carbonated: Yes
Sweeteners:
Sucralose
, acesulfam-K
Caffeine: 32mg/100ml
BCAA: No
Ingredients
Kolsyrat vatten, surhetsreglerande medel (citronsyra, fosforsyra, natriumkarbonat), naturliga aromer, färgämne (E150d), sötningsmedel (acesulfam K, sukralos), koffein (0,03%), konserveringsmedel (natriumbensoat, kaliumsorbat), vitaminer (niacin, vitamin B6), guaranaextrakt (0,001%).
Manufacturer
Coca-Cola AB
Dryckesvägen 2C
136 89 Haninge

Email: konsumentkontakt.se@cokecce.com
Homepage: https://www.coca-cola.se
Other
Last update: 2020-10-06 13:20:38
Review date: 2019-08-18
Grade 5-point scale: 3.00/5