Funktionsdryck
>
Repp Sports
>
Raze Energy
>
Raze Energy Guava Mango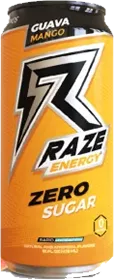 Raze Energy Guava Mango
Review:
Raze Energy Guava Mango is a sugar-free energy drink enriched with caffeine and taurine. The drink has a good and strong taste of peach !!! We did not write wrong. We think it tastes more peach than mango / guava. It may be the combination that does it. It is tasty anyway.
Buy On-line
Egenskaper
Carbonated: Yes
Sweeteners: acesulfam K
Caffeine: Yes
BCAA: Yes


Ingredients
Kolsyrat vatten, antioxidationsmedel (E330), prestanda komplex (trimetylglycin, vattenfritt koffen, taurin, antioxidationsmedel (E332), l-tyrosin, kolinbitartrat, BCAA aminosyror [l-leucin, l-isoleucin, l-valin], carnitine l-tartrate, alpha GPC, koffeincitrat), naturliga och artificiella aromer, sötningsmedel (E955), konserveringsmedel (E202, E211 [för att bevara färskheten]), sötningsmedel (E950).
Manufacturer
Repp Sports



Email: https://reppsports.com
Homepage:
Other
Last update: 2020-12-13 13:27:11
Review date: 2020-12-09
Grade 5-point scale: 4.00/5