Funktionsdryck
>
Repp Sports
>
Raze Energy
>
Raze Energy Strawberry Colada

Raze Energy Strawberry Colada
Review:
Raze Strawberry Colada is a sugar-free energy drink with caffeine and vitamins. The drink is a mixture of strawberry and coconut. it is quite common that the coconut taste in energy drinks feels quite artificial and this is also the case here. It could have had a stronger strawberry taste and become tastier.
Buy On-line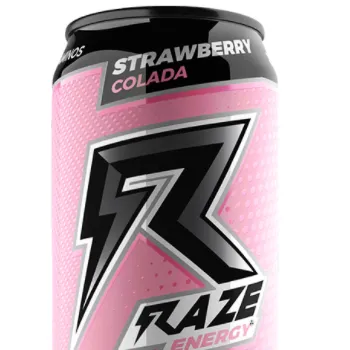 Egenskaper
Carbonated: Yes
Sweeteners: acesulfam K
Caffeine: Yes
BCAA: Yes


Ingredients
Kolsyrat vatten, antioxidationsmedel (E330), prestanda komplex (trimetylglycin, vattenfritt koffen, taurin, antioxidationsmedel (E332), l-tyrosin, kolinbitartrat, BCAA aminosyror [l-leucin, l-isoleucin, l-valin], carnitine l-tartrate, alpha GPC, koffeincitrat), naturliga och artificiella aromer, sötningsmedel (E955), konserveringsmedel (E202, E211 [för att bevara färskheten]), sötningsmedel (E950).
Manufacturer
Repp Sports



Email: https://reppsports.com
Homepage:
Other
Last update: 2020-12-26 15:25:07
Review date: 2020-12-19
Grade 5-point scale: 3.25/5