Energidryck
>
Monster
>
Monster
>
Monster Energy Absolutely Zero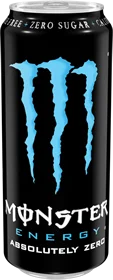 Monster Energy Absolutely Zero
Review:
Monster Energy Absolutely Zero is a sweet-smelling energy drink. The taste is reminiscent of the chewing gum Jenka and is a little too sweet for us. The drink comes in 50 cl jars at a perfectly ok price.
The drink has its fans and many people like this drink but for us it is far too sweet.
Buy On-line
Egenskaper
Carbonated: Yes
Sweeteners:
Sucralose
, acesulfam-K
Caffeine: 32mg/100ml
BCAA: No
Ingredients
Kolsyrat vatten, syra (citronsyra), smakämnen, taurin (0,4%), surhetsreglerande medel (natriumcitrat), panax ginseng rotextrakt (0,08%), L-karnatin, L-tartrat (0,04%), koffein (0,03%), sötningsmedel (sukralos, acesulfam-K), konserveringsmedel (sorbinsyra, bensoesyra), vitaminer (riboflavin, niacin, B6, B12), färgämne (antocyaniner), natriumklorid, D-glukoronolakton, guaranafröextrakt (0,002%), inositol.
Manufacturer
Monster



Email: https://www.monsterenergy.com/se/sv/contact-us
Homepage: https://www.monsterenergy.com/se/sv/home
Other
Last update: 2020-12-06 12:05:48
Review date: 2019-07-31
Grade 5-point scale: 2.75/5