Energidryck
>
Monster
>
Monster
>
Monster Energy Ultra Blue
Monster Energy Ultra Blue
Review:
Monster ultra blue is a sugar-free energy drink with caffeine. The drink has a well-balanced sweetness that cuts in with a certain acidity in the aftertaste. The taste is said to be berry but we can not define any clear taste. However, the taste is good and refreshing and with large cans, Monster feels, as usual, affordable.
Buy On-line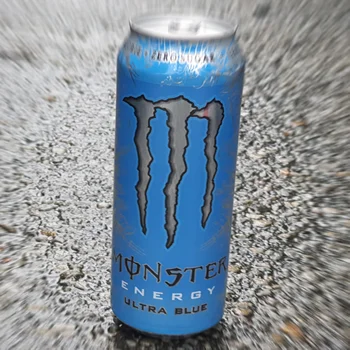 Egenskaper
Carbonated: Yes
Sweeteners:
Sucralose
, acesulfam-K
Caffeine: 32mg/100ml
BCAA: No
Ingredients
kolsyrat vatten, syra (citronsyra), smakförstärkare (erytritol), aromer, taurin (0.4%), surhetsreglerande medel (natriumcitrat), panax ginseng rotextrakt (0.08%), konserveringsmedel (sorbinsyra, bensoesyra), koffein (0.03%), sötningsmedel (sukralos, acesulfam K), L-karnitin L-tartrat (0.015%), vitaminer (niacin (B3), pantotensyra (B5), B6, B12), inositol, färgämne (E 133).
Manufacturer
Monster



Email: https://www.monsterenergy.com/se/sv/contact-us
Homepage: https://www.monsterenergy.com/se/sv/home
Other
Last update: 2020-12-06 12:01:38
Review date: 2019-12-28
Grade 5-point scale: 4.00/5