Energidryck
>
Monster
>
Monster
>
Monster Energy Ultra Paradise

Monster Energy Ultra Paradise
Review:
Monster Energy Ultra Paradise is a caffeine-enriched energy drink. It is very similar to the others in the Ultra series, but here with a light taste of apple. It is perfectly ok but feels a bit slicker than the Ultra original. Try and see which one is your favorite.
Buy On-line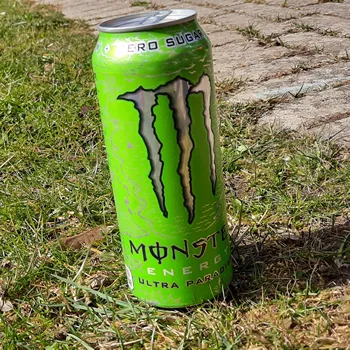 Egenskaper
Carbonated: Yes
Sweeteners:
Sucralose
, acesulfam-K
Caffeine: 32mg/100ml
BCAA: No
Ingredients
Kolsyrat vatten, Syra [E330], taurin, Surhetsreglerande medel [E331], konserveringsmedel [E202], koffein, sötningsmedel [E950, E995], konserveringsmedel [E211], Vitamin B3, B5, salt, L-Karnitin, L-tartrat, naturliga och artificiella aromer, stabiliseringsmedel [E414], inositol, stabiliseringsmedel [E445], Vitamin B6, färg [E102, E133], vitamin B12. Innehåller AZO-färgämne som kan ha negativ effekt på barns beteende och koncentration.
Manufacturer
Monster



Email: https://www.monsterenergy.com/se/sv/contact-us
Homepage: https://www.monsterenergy.com/se/sv/home
Other
Last update: 2020-12-06 12:05:34
Review date: 2020-03-02
Grade 5-point scale: 3.25/5